President's Greeting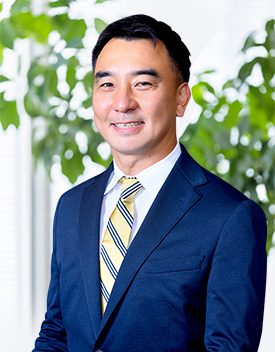 Welcome to our companies
Since our beginnings over 100 years ago, Meiji Shipping has evolved from a small shipping company into the holding company for the entire Meiji Shipping Group, now comprising of more than 30 marine-related and non-marine related companies.
As President of the Group I always try to promote a more freethinking environment and believe that we should always be open to change.

In this web site you will see that our company has a relatively long and colourful history and that we also respect that history. Indeed, we are proud that we have survived, however, thinking rationally, we have to recognize that we overcame those difficult times together with our competitors throughout the world. I am happy that other companies survived as this adds competition to our marketplace; a stimulus for us to become stronger and to compete globally. When I say that we survived 'with' our competitors, I mean that we just shared difficult times, as each company must have had their own "recipe for success".

For me, when I look towards the future, I always look with an enthusiastic, a dedicated but most of all an open mind. This is necessary to break away from 'local' success and move further into the international arena. Our international staff are one step towards this goal; our international clientele proof that we are moving away from our origins. I am proud that we have been able to break down the language barrier and that we have been able to expand outside Japan with many vessels now on direct time charter to Majors from around the world. I hope to continue to break down any existing barriers and to change my company into a true "company without borders", both internally and externally.

We, the Meiji Shipping Group, don't want to be just a big, just an old or just a famous company; we want to be a company steadily pursuing international recognition by tuning our services but without changing our core values. We should welcome competition from around the globe but never fear change or rebirth to adapt to the times.

I sincerely hope that you enjoy your time browsing through our home page and look forward to any business opportunities which we may be fortunate enough to have in the future.

Kind Regards,



Kazuya Uchida,
President Meiji Shipping Co., Ltd.